The efficiency and optimization of processes are fundamental to the success of a company.
A key area in this regard is procurement, which covers the entire process of acquiring goods and services, from identifying needs to paying suppliers.
With the advancement of technology and the incorporation of artificial intelligence, innovative solutions have emerged, and many companies are already adopting procurement portals in their operations to help them reduce costs, mitigate uncertainty risks, improve supplier performance, and ensure compliance.
More than 20 years ago, an IBM factory in Mexico more than doubled its production value (by around US$2 billion) in just 3 years, thanks to the introduction of procurement technology.
More recently, according to an article by Forbes, with procurement technology associated with artificial intelligence, a fabric, paper, and packaging manufacturer, by ensuring real-time accuracy in its inventories, recorded savings of more than 20 million dollars only in the first 45 days.
Is it therefore important to know in how many months you can recover the investment made in a procurement portal?
The strategic role of procurement:
Before we address the issue of the return on investment of a procurement portal, it is important to understand the strategic role it plays in organizations.
Through procurement portals, the process is transformed into electronic procurement (eProcurement), which allows the automatic launch of quotation requests, the automation of price inquiries with suppliers, and in many cases, even the automation of accounts payable.
A well-designed procurement strategy, supported by procurement portals and with the involvement of the organization's top management, makes it possible to optimize production costs, save time and money, and create value for the business.
However, to maximize the potential value to the organization, according to Gartner, leaders in the areas of procurement and operations have the responsibility to manage risks, drive innovation, optimize costs, and promote sustainability in supply chains, which is only possible with the involvement of all stakeholders in the process.
According to Gartner analysts, they should take into account the following aspects:
Be digital
Practice strategic sourcing
Develop talent for procurement:
Influencing those who make business decisions
The perception of the strategic role of procurement is now so evident that, according to a recent study by Globality, organizations are starting to prioritize the digitization of procurement as a way to gain a competitive advantage.
The use of procurement portals as an innovative digital technology means ending dependence on suppliers in a single location or country, which, in addition to generating cost savings, minimizes operational and geopolitical risks (as well as those associated with the COVID-19 pandemic or more recently with Russia's invasion of Ukraine).
The Globality study points to trends that leave no room for doubt:
90% of companies feel the need to change their purchasing processes in the next 3 years to make them more agile and resilient;
87% are prioritizing building teams (digital and data analytics) to gain predictive insights and deploy new technologies;
50% intend to focus change in their organizations around optimizing procurement processes;
The priorities of those taking the first steps in sourcing and procurement leadership are:
As the supply and acquisition of goods and services are critical to the business, the dependence on suppliers to guarantee the supply chain places procurement as a central strategic element.
Thus, procurement managers, following a global trend, include the adoption of digital technologies, the integration of data analysis, and the implementation of effective sourcing strategies at the top of their priorities.
According to Gartner, more than 70% of purchasing and supply professionals look to suppliers for ways to explore new types of technological services, and it is in this context that procurement portals emerge as the solution to adopt.
For those who are starting a new challenge in the procurement area, according to the Gartner study, they should start by identifying the critical priorities of the different business areas and by understanding where they can be supported through a broad and reliable supplier base:
Assess and measure performance in terms of procurement and acquisition;
Build relationships with key business partners;
Mitigate the risks of suppliers;
Develop an action plan;
Gartner has outlined the top 10 priorities for the first 100 days on the job in a new procurement role.
What is the Procurement Portal (eProcurement) and what is its complexity?
As the supply and acquisition of goods and services are critical to the business, the dependence on suppliers to guarantee the supply chain places procurement as a central strategic element.
If procurement is, in essence, the purchase and sale of raw materials, goods, or services, the procurement portal is the carrying out of these operations through a digital platform that automates and centralizes the acquisition processes, from price analysis to the purchase request until payment to suppliers.
Depending on the complexity of the procurement portal in question, it may integrate several steps, such as eSourcing, selection and monitoring of supplier performance, price quotation, contract negotiation, purchase order automation, receipt notices, and the validation of invoices received.
In addition, a procurement portal can provide advanced analytical capabilities, allowing a more comprehensive and strategic view of procurement activities.
The Legislation:
Understanding the criticality of Procurement as an instrument of profitability, many countries began to apply regulatory measures to the public sector, with Portugal being at the forefront since 2009, when public contracts in Portugal were mandatorily awarded through the use of electronic platforms with publication on the official public procurement portal (Portal Base Gov).
For the public administration, it introduced benefits of efficiency, transparency, equity, competition, impartiality, and incentive to local companies at the same time that it contributed to the reduction of corruption phenomena.
In Europe, e-procurement is regulated by 2014/25/EU of the European Parliament and the Council. According to Wikipedia's entry on eProcurement, many other countries are regulating procurement, in particular in the state's relationship with the economy, such as Bangladesh, Mongolia, Ukraine, India, Singapore, Estonia, the United Kingdom, the USA, Malaysia, Indonesia, or Australia.
What are the benefits of e-procurement?
The implementation of a Procurement Portal brings numerous benefits to organizations as it reduces bureaucracy, automates processes, eliminates human errors, increases operational efficiency, reduces transaction costs, introduces transversal visibility to processes and minimizes decision-making time , since they are based on real data, on profitability objective criteria and on analysis of the performance of processes and suppliers.
They are essentially benefits for the business and consequently for the entire organization, with better control of expenses, with the centralization of purchasing processes and with the automation of validations between purchase orders, deliveries, invoices and payments.
With a Procurement Portal, you can leverage artificial intelligence (AI) to improve data analysis, forecast demand, and identify optimization opportunities.
Procurement in 2023:
The coming years are going to be extremely challenging and disruptive.
We are experiencing an extremely unfavorable and unpredictable macroeconomic environment due to the aftermath of the consequences of the pandemic, the war in Europe, and galloping inflation, to which are added a shortage of specialized labor and serious problems in global supply chains.
These are challenges that transcend the resolution and intervention capacities of organizations and those responsible for them.
In addition to these, there are also technological challenges with the effervescence of innovation and the emergence of various artificial intelligence tools, whose use will put at the forefront all those who know how to take advantage of them.
It is in this context that those responsible for procurement are called upon to lead the incorporation of innovation, introduce complexity into decision models, improve processes, reduce the need for manpower, and increase the profitability of their business areas.
Gartner explains that organizations are increasingly dependent on suppliers, and it is necessary for those responsible for procurement and strategic sourcing to understand how to extract more value from the supplier base and protect their organizations from future disruption. Organizations will not be able to afford uncontrollable costs, and it is therefore vital to have full visibility into the sources of cost structures.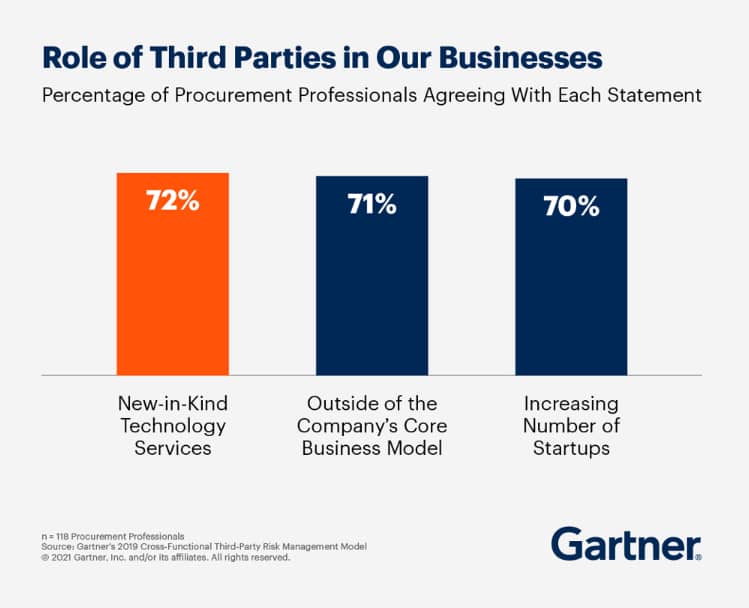 In short, the success of strategic sourcing and procurement depends on:
Cost optimization;
Supplier resilience;
Responsible Sourcing.
The success of leaders in the areas of procurement in 2023:
Here are four strategic actions defined by Gartner and other experts for Chief Procurement Officer (CPO) success:
They should seek to implement strategic actions that place procurement in a prominent place in the organization, encourage sourcing optimization, and increase resilience and risk mitigation.
CPOs must reduce their teams' repetitive workload
Repetitive work generates high levels of burnout, giving rise to phenomena such as "great resignation" or "quiet quitting." By specializing functions and integrating technological innovation, it reduces cognitive load and increases productivity.
Employees must be involved in order to retain talent and attract the right talent.
Employees must be involved in the entire process, with specific training that induces new behaviors and allows them to not only retain their talents but also attract specialized talent.
Finally, the chosen technologies must be safe and have measurable results.
Also according to Gartner, when presenting an investment need, if you substantiate it with facts, figures, and a rationale for savings, and if you manage to present the transversality of the benefits, you double the probability of approving your investment.
Actionable insights for sourcing and procurement leaders
As previously mentioned, there are many limitations to the work of procurement teams. There is a lack of resources; those that exist are overloaded, and, in addition, in many cases, the approval workflows are manual and outdated, which makes it impossible to automate these processes.
Many companies still initiate purchase processes through phone calls, text messages, or emails in an unstructured and organized way, subject to breaks in the process for various reasons, such as an email that went to spam or that was not forwarded if the user is on vacation, a missed phone call, or a supplier forgetting, without any alerts or notifications.
At Uniksystem, there are many of us who work on streamlining processes and automating workflows that help organizations eliminate inefficiencies.
In terms of risk, dealing with time-consuming purchasing practices with long approval times can lead employees to look for alternative methods to speed up the process, increasing the risk for the company due, for example, to a lack of evaluation of suppliers or compliance of Law Suit.
Gartner explains that procurement leaders must go beyond short-term cost management to make the most of supplier capabilities in a structured and segmented way. I.e:
Align supply chain sourcing strategies;
Invest in the involvement of stakeholders;
Define and communicate the right metrics internally and externally to drive optimal behavior.
5 passos para modernizar o procurement
According to a Forbes article, there are five main steps to successfully modernize Procurement processes:
1: The purchase process must start at the time of the request.
In a modern procurement workflow, the first step will be the creation of a requisition, carried out through a platform that is easy to use and understand, even for someone who is executing it for the first time.
By centralizing the generation and entry of requests, they gain visibility into needs and manage to reduce compliance and duplication risks, or most of the time, generate economies of scale.
2: Automate approval workflows
Structure approval matrices that allow identifying the necessary actors in each process, transversal to the organization (financial area, accounting, security, legal, people) or others.
Implement these workflows in the procurement portal, differentiated according to the type of acquisition, the value, the urgency, and the scope, and make the processes linear but flexible, transparent, and effective.
3: Control renewals
Renewals cannot be relegated to the second plan. Control contract termination dates and carry out timely negotiations to obtain better prices.
It is important that your procurement portal be transparent and centralized so that you can generate alerts for interested parties about renewal dates.
4: Communicate the modernization you intend to carry out.
Be clear with teams about what you want to modernize and what the goals are. Explain the advantages of modern, agile, and predictive procurement processes and how they will be a competitive advantage for the company.
5: Integrate new technologies into procurement processes.
It is important that the procurement process be perfectly integrated with the tools (software) in current use in the organization. It is important that the modernization be a complement and improvement of the existing processes.
Artificial intelligence at the service of procurement solutions
AI already helps us improve the performance of tasks based on structured data, namely with regard to data capture solutions. But how will you deal with scattered information and predictions?
Searching the famous ChatGPT, little information is obtained regarding the incorporation of artificial intelligence in procurement processes, probably because it is still recent information.
But what is certain is that artificial intelligence and machine learning already help us streamline procurement processes, reduce errors, and provide real-time data analysis—crucial aspects for improving procurement processes.
According to the World Economic Forum (WEF), the majority of C-level executives look to AI as an enabler in developing a digital mindset and a business culture that is conducive to transforming insights into real-time business decisions. Currently, AI has been included in specific applications such as ERP, business solutions such as UnikSystem's accounts payable tool, and even IoT platforms.
Paul J. Noble, a Forbes contributor who covers the impact of AI and machine learning on the supply chain, explains that procurement will have to change with the support of AI. The global economy is unpredictable, and manufacturers must improve risk management and prioritize digitization within their procurement processes to move closer to what Gartner calls autonomous procurement, which has the potential to drive efficiency and savings to new levels, as long as they are well built.
Cognitive computing is contributing to data harmonization and allowing real-time information to help companies make decisions based on more reliable data more quickly.
AI and machine learning can also contribute to filling the lack of human capital and "taking responsibility" for repetitive tasks without replacing employees in areas of greater added value.
UnikSystem already uses AI in solutions
UnikSystem has already introduced AI into its applications to automate business processes and help organizations digitize their activities.
Through the Procurement Portal, you can initiate structured purchasing processes, eliminating dispersed data communicated through multiple channels, on an automation platform that adapts to the specificities of your purchasing processes.
By adding the Data Capture capabilities to the Procurement Portal, it will also allow automating Accounts Payable since, with cognitive interpretation and AI, data from invoices is extracted, eliminating the need to manually record data and enabling the automatic validation of business and compliance with the purchase order.
With a Procurement Portal with Data Capture, it reduces the purchasing process cycle by 80% and gains scalability, agility, and total control of the entire process. The gains are evident.
Return on investment in a Procurement Portal:
Returning to the initial question about the time required to recover the investment in a Procurement Portal, it is important to emphasize that this answer may vary depending on several factors, such as the size of the organization, the complexity of the procurement processes, and the degree of automation already in place. However, studies and reports suggest that the benefits of a Procurement Portal can be significant and that the return on investment can be achieved in a relatively short period of time.
According to the World Economic Forum, in a report on the application of AI in procurement, it is possible to obtain positive results in a period of 6 to 12 months. This report highlights operational efficiency, reducing costs, improving data quality, and making more informed decisions as key drivers of return on investment in a Procurement Portal.
Conclusion:
The implementation of a procurement portal can bring significant benefits to organizations by promoting efficiency, transparency, and agility in procurement processes.
Although the exact time to recover the investment varies according to each case, studies indicate that it is possible to achieve positive results in a relatively short period, usually between 6 and 12 months.
Therefore, for companies looking to modernize their procurement operations and optimize their results, investing in a procurement portal is a promising strategy with the potential to generate significant returns in the medium term.
By Ricardo Barros – Chief Customer Success Officer @Uniksystem