Automate Manual Data Entry with AI
Capture document data with 99.9% accuracy. Reduce manual effort with repetitive tasks.
Free trial. Cancel whenever you want.
SOME OF THE CUSTOMERS WHO TRUST US
Any Document
With AI capture unstructured data without the prior need to create collection templates as in traditional OCR solutions
All Processes
The data are incorporated into the processes, allowing their automated processing or validation, according to the defined rules.
Greater efficiency
End repetitive tasks, eliminate human data entry errors, and streamline operations with process automation
MAIN FIELDS
Capture the data you need
Upload invoices in multiple formats, currencies, languages ​​and get the structured data you need.
You can also choose to extract the lines from the documents.
Get fields with 99.9% accuracy.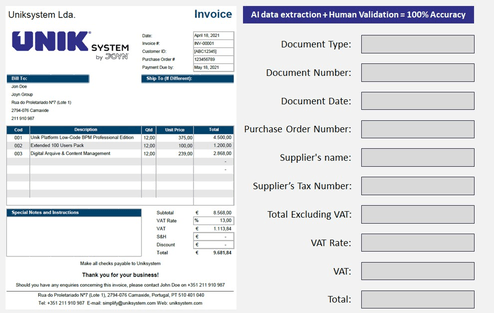 APPROVAL WORKFLOWS
Adapted to each organization
With the process management platform, simplify document validation and approval procedures.
In a collaborative platform, all players interact in the processes, at the precise moment when it is necessary.
INTEGRATION IN ERP'S
Integrate the data in the financial ERP
Eliminate the repetitive task of manually entering data into financial ERPs.
Data extracted from financial documents are made available through integration files or API's with 99.99% accuracy to be integrated into financial ERP's.
Data Capture Portal
Portal Data Capture has a wide range of possible applications. With parameterizations tailored to each reality, it is prepared to respond to multiple types of use cases. We have ready-to-use solutions for the most common types of documents.
Contact us! Start your free trial today!
Ask questions about your use case, talk to an automation expert.