The rise of automation and what it means for the future
Automation can save time and money
Automation can generate annual savings of $4.7 million
Digital transformation and technology are helping people to manage their time with unprecedented efficiency, and the use of Automation and AI are providing a redefinition of working methods among employees and companies.
WorkMarket in collaboration with KRC Research and NYU Stern School of Business Professor Arun Sundararajan explores the impact of AI and automation on America's workforces.
They produced a report where they show that business leaders and their employees believe that significant parts of their workdays are ideal for automation processes and AI. In the case of employees, 53% say that through automation they can save up to 2 hours of work per day and in the case of leaders, 78% of them say that automation can save up to 3 hours of work per day.
So, through automation, you can save 6 weeks of work per year according to employees and 9 6 weeks of work per year according to business leaders, allowing you to reinvest that time in career development and personal growth.
The report further points out that the introduction of automation and AI can lead to significant cost savings for companies, giving the hypothetical example of a Fortune 500 company that could potentially have savings of $4,700,000 per year.
If companies and workers align themselves when it comes to digital transformation goals and the adoption of technological innovation, they will certainly become more aligned and with common goals for growth.
The world is now fully digital and there is no turning back.
Automation can help overcome global labor shortages
It is a fact that globally there is a labor force deficit.
It is particularly evident in more developed countries, where low birth rates and an aging population have contributed to a decline in the workforce and, consequently, to an increase in unfilled job vacancies.
If in the past this shortage was solved by moving production to countries with lower labor costs, today even these countries are starting to feel these same constraints.
It becomes evident that the solution involves training the workforce in the use of cutting-edge technology and automation, increasing productivity, safety and even the training time needed to perform each function.
The use of ready-to-use and simple-to-use automation solutions are therefore essential to balance the needs of human resources with the digital illiteracy of some of this workforce.
A study by Nova SBE with CIP, on the future of Work in Portugal, states that "Portugal has a high potential for automation, in which 50% of the time spent on work tasks is likely to be automated using existing technologies, the same increase to 67% in 2030, through the appearance of new technologies"
Automation as a distinctive factor in the ability of companies
A survey carried out by the European Investment Bank (EIB) indicates that the pandemic has increased the role of technology in everyday life, in economic and social activity, in the expected recovery of business and consequently in the adoption of innovation and robotization processes.
The impact of technology, automation and innovation in the most varied sectors of activity and the improvements in productivity and consumer experience that they have provided is undeniable.
With this digital transformation, new jobs are emerging. The fact is that 60% of technology companies operating in Portugal have increased the number of employees in the last three years.
João Cerejeira, economist and professor at the University of Minho even mentions that "Companies that are more digitized, that is, that introduce technology in management processes, in customer relations, in the productive part, have significant productivity gains".
Automation in Human Resources
Human resources is one of the areas with the greatest set of administrative and bureaucratic processes.
The need to reduce administrative effort and simplify people management means that more and more companies are betting on the adoption of tools such as the Unikpeople HRIS.
Automating HR processes can reduce up to 70% of administrative work for Human Resources.
As an example, a company with 150 employees can save close to €7,000 per year by adopting the Employee Portal. Make your own accounts.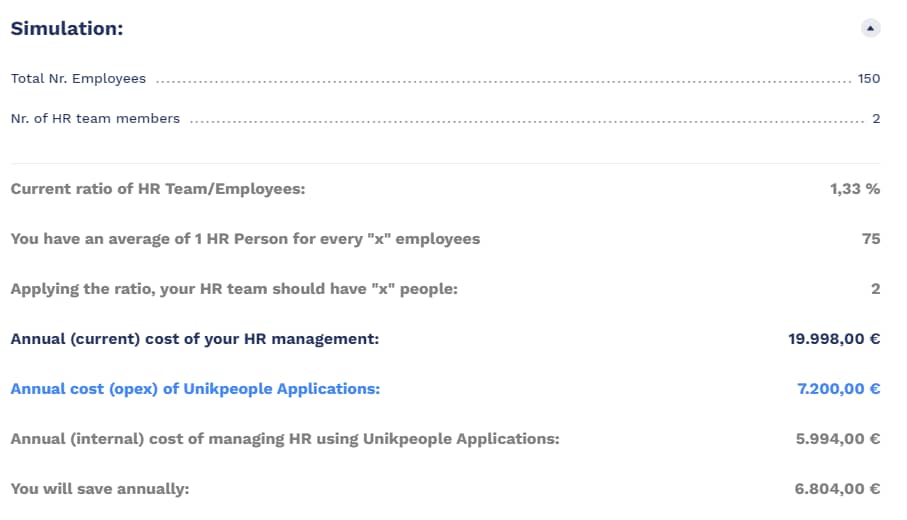 Accounts Payable automation
In the financial area, the processing of invoices, purchase orders and the introduction of this information in the financial ERP is one of the tasks that consumes the most time for the teams.
The reduction of manual data entry tasks means that more and more companies are betting on the use of the Data Capture Portal.
Accounts Payable automation can reduce up to 70% of manual tasks in handling financial documents (invoices, receipts, etc.).
As an example, a company that handles around 300 invoices per month can save close to €5,000 per year by adopting the Accounts to Pay Portal. Make your own accounts.