ETR: 5 min.
Business innovation and simplification are growing challenges driven by diversity of technologies and skills to maintain and develop business solutions. Reduced budgets is another reality, forcing a cut in structural or strategic investments and to seek other solutions (Forrester, 2014; Pereira, 2014). Global economy and political uncertainty have motivated diverse changes and people migration between countries, forcing the need for huge investments and new approaches in organizations. Innovation becomes even more important and critical than ever, in order to keep competitive survival and advantage (Pereira, 2015). Organizations are faced with fast and continuous changes in customer behavior, legislation and competition, with new global players emerging from startups all over the world. Organizations must now answer the question:
How to simplify operations, improve performance and introduce technology based innovation in order to succeed and surpass competition?
What strategic vectors (Price, 2014) should executives in organizations (CEO, CIO, CMO, CxO) therefore discuss with each other:
Vector 1: Organizations must change their ways of acting and significantly simplify them, by applying methodologies such as "Lean 6 Sigma" and searching for more effective alternatives, faster and less expensive, better satisfying their customers. Digital Transformation and employee adoption of new solutions is critical and frequently neglected.
Vector 2: The sales cycle in business must be shortened, seeking the improvement of the user experience and the customers' engagement levels (Moore, 2012; CIPD, 2012). Process changes should be evaluated and supported in technological innovation such as the Bigdata, Advanced & Predictive Analytics, Mobile channels or Social networks, as well as the adoption of Cloud services and SaaS (Fauscette, 2014).
Vector 3: BPO (Business Process Outsourcing) can be introduced to transfer some non-core activities to reliable and expert partners, who can provide the best service and the best price. Only with a high level of specialization it is possible to improve service levels while maximizing the cost/benefit ratio with effective management and risk control. External software development can be introduced with high quality and security as a dynamic extension of internal teams with a Center of Excellence (CoE).
Vector 4: Robotic Process Automation (RPA) is an important trend that allows an improved 24×7 business support and a cost reduction on employees. Together with documents digitalization and management (Data Capture) supported by Artificial Intelligence and ML (AI/ML), allows for human error reduction and processes simplification with direct impact in cost savings.
Vector 5: Legal and regulatory external impositions require the adoption of good governance practices in the management and compliance assurance, such as those related to security, confidentiality or intellectual property, GDPR, Open Banking, among others (EBA, 2014).
How to approach and address those vectors?
A new way of thinking based in constant change (vector 1) is needed but people tend to resist to change. So, there's a critical need to involve people in the change process itself and motivate them to be part of that change. This way employees become leaders that promote a culture of simplification, constant change and improvement like entrepreneurs in start-ups. A good definition of individual objectives will provide the constant alignment with the corporate and common goals (KPI's), that promote the so needed change. This way, each and all collaborators will have in intrinsic drive to promote change and achieve success, both at the individual (variable remuneration) and the company (sales and profit) levels.
Advanced and predictive analytics are emerging on top of big data, IoT and social networks information, allowing the implementation of artificial intelligence algorithms (machine learning) to speed up customer needs and product trends, serving customers with increasing user experience and sales (vector 2). Organizations that invest in this kind of innovative approaches will gain competitive advantage and lead their market segments. Additionally, this same technology and investment can be used to calculate business scores and risk with direct impact both on business and compliance.
Agile software development with Low-Code, Business Skills and Robotized Testing can be the answer to achieve high maturity in constant change environments (vector 3) because of its dynamic adjustment capability either in delivering capacity or in expertise. Only in a close collaboration model between operations, analysts and software architects, with the adoption of agile project management methodologies can organizations change their speed and adapt do different business scenarios. Externalization of these skills and processes can be a strategic advantage and be the solution to introduce change with control and SLA's (BPO).
RPA (vector 4) represents an important trend that together with Artificial Intelligence and Machine Learning can reduce significant costs, reduce human errors, and increase processes agility, replacing and automating present human repetitive tasks. This technology can even work 24h/7d with a much higher productivity than humans. Moreover, it enables a better standardization in procedures that can be monitored with KPI's and constantly improved.
Legal and regulatory impositions by third parties, represent a huge effort that most organizations need to comply with and automate. Internal departments in organizations cannot address compliance separately because processes will not be integrated and the investment needed would be doubled and prohibitive. To reduce investment budgets (vector 5), organizations must embrace business change, innovation and compliance as a single work stream. Internal fluid communications and leadership are crucial for all organizations that aspire to succeed. This way, a single investment can address future compliance needs and, at the same time, deliver new business tools and new systems of engagement with customers, being part of the chain value themselves.
A constant simplification mindset together with technology based innovation and good metrics that highlight goals, makes success look easy. In fact, it's very easy. You should try it!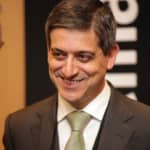 Jorge Pereira @ Joyn Group