Data Capture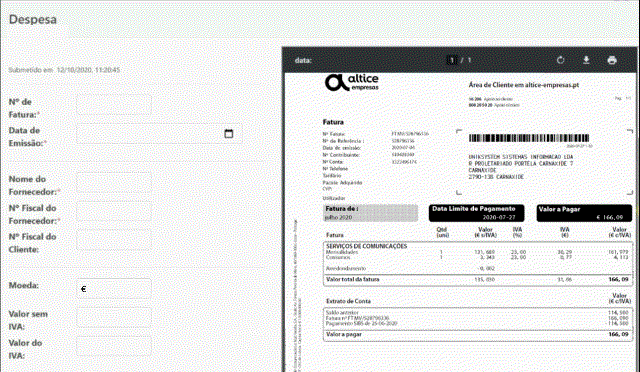 100% accurate data capture automation
In just two weeks, we delivered the digital solution Data Capture (DC) to two financial entities. We accelerated applications for financial support in the Covid-19 pandemic period, delivering finance more quickly to companies, to revitalize the economy.
INVOICES AND ACCOUNTS PAYABLE
THE PROBLEM
Of your staff's time is spent on data entry tasks
Of suppliers call you to get an update on payment
Is how you spend per year processing 1,000 Invoices
21 Days
Is how long you take to process each invoice on average, from the moment you receive it until you register it
Automate the Processing of Invoices
and Regain Control Over your Business
with DATA CAPTURE
Invoice processing automation
Supplier autonomy in consulting payment status
Decrease in the internal cost of processing 1,000 invoices
Total
Traceability throughout the invoice approval process

DATA CAPTURE
100% ACCURATE DATA CAPTURE AUTOMATION
Our Data Capture solution extracts the key information from your documents using Artificial Intelligence, Machine Learning, and the sharp eye of our revision team, delivering 100% accuracy in the processing of those documents.
It allows for a structured collection of the relevant data extracted from all types of documents, regardless of their format or layout.
With Data Capture you can fully automate your information systems. Being able to gather structured data allows you to integrate that information easily into your existing ERP and other programs.
The new QR Code Reading feature allows for a more robust and streamlined solution, making it even easier and quicker to obtain the key information from your documents.
FAQs
Data Capture vs. Other OCR Solutions
We'll be delighted to talk to you.
Please send us your request and provide your contact details so that we can reach you.