Low-code: the fastest and most cost-effective way to accelerate your organization's development
Low-code development is a solution for companies in all industries, who want to create integrated applications from the ground up with pre-existing management software and databases.
With a small effort and just using drag and drop, with some practice, even those who are not software programmers, can create an application in the blink of an eye. With accumulated experience, the most agile users may even end up developing applications in real-time, at the limit, while participating in the meeting where the same app is discussed.
Alternatively, to applications developed from scratch, whose programming takes a lot of time and involves the hiring of often very specialized labor, the development with a low code platform is more accessible in all aspects. After all, it speeds up the process and reduces development costs. It is necessary to overcome the barriers of learning curves, but this is no longer a problem in a short time. The shortage of software developers that Europe currently experiences (more than 2 million professionals are missing) forces organizations to search for alternative solutions because waiting for resources is certainly not an option.
And don't think that low code is only used by small businesses. Multinationals from different industries including car manufacturers, banking, and governments are just a few examples of organizations that are leveraging the low code to improve their business processes.
Attention in low code has been growing exponentially
Forrester Research estimated about a year ago that low-code platforms could account for 75% of application developments by 2021, up from 44% by 2020. The same analysts, in a study conducted with global business and IT decision-makers, published in March last year, say that 84% of companies have already adopted a low-code platform or tool, and are very pleased to have had a positive and rapid return on investment.
On the other hand, Gartner has designed that the low-code development market should grow 22.6 percent to $13.8 billion by 2021. Previously, that organization had anticipated that by the end of 2024, 65% of all application development functions will be done through low code. The effect of the pandemic is felt in this growth because remote work has led to greater use of this alternative route for the creation of solutions.
How a low-code development platform works
A good low-code platform helps build applications faster and at a lower cost than traditional software development. For those who don't program, the low code still means code, but for software engineers, it's not really code, which can cause some discussion in organizations.
When the business has nothing to do with technology but needs it to work, the best alternative is to outsource the work to a specialized partner that helps you create solutions saving time, money and freeing specialized programmers, naturally expensive and rare.
Simplicity of use
Low-code tools are designed to be simple, allowing companies to focus on their own businesses. Upstream, low-code platform developers build easy-to-adopt and improve (maintain and evolve) tools.
Low-code development platforms include modules, shapes, processes, workflows, data models, integrations that can be added, moved, removed with just a drag-and-drop simple action. Platforms also allow you to create specifications (library objects, reusable) that can be used to create an app that can (or may not) interact with the platform backend.
But be careful that speed isn't everything. More than speed, sometimes it is necessary to stop and think before moving on. The real challenge, more than the development of the application, is to define what it is and what are the business objectives of the application and imagine its role in the lives of customers or users. Development can be fast, but nothing replaces critical and strategic thinking in order to optimize the user experience (UX), along with a simple, intuitive, and very appealing interface (UI).
Low-code platforms also act as accelerators, so design, specification, and architecture must be well structured to benefit from multiplier factors, or impacts can be very negative, with a negative multiplier.
Low-code development platform users
There are several "personas" that can develop with low code, including amateur programmers, power users, as well as business analysts, database administrators, and, of course, professional programmers.
To ensure the success of the project, the team involved must understand the business, know the development platform and know the information technologies used in the organization, including business applications and databases and, not least, have the support of management. You may find all those skills in one single person, but usually it demands for several people who can work as a team, complementing their skills.
This team should include business analysts and/or processes, usually with little or no programming experience, but will certainly need someone more specific for integrations with pre-existing applications, to produce reports, and to ensure specific interface requirements with existing systems (internal or external).
You can also use external consultants to make the software development process even more efficient, in an IT Outsourcing concept, which allows you to add talent in a modular way, individually, or in the form of complete teams.
Use Case
"UnikSystem, in 2020, delivered, in just two weeks, a digital solution for capturing data in two financial entities. This development accelerated requests for financial support during the COVID-19 pandemic and provided financial support more quickly to businesses and helped revitalize the economy."
Advantages of low-code development
Low-code development has several potential advantages:
Reduces application development time up to five times;
Reduces application development costs by up to four times;
Have people with fewer programming skills that contribute to the development of applications (and cheaper);
Creates independence from database developers and administrators to develop new solutions;
It gives greater prominence to employees with fewer computer skills who are often the ones who best understand the business and the objectives of the application.
6 strong reasons to adopt a low-code platform
With the use of a good low-code platform, you can create applications quickly, with all the capabilities and integrations you need and perform well. The platform can be your secret weapon because it can create all the customized solutions that your company needs to innovate and distinguish itself from the competition.
With this approach, your company can:
Develop quality software;
Time to Market – Mitigating the stress of deadlines;
Significantly reduce development and maintenance costs;
Avoid the use of skilled, rare and expensive labor;
Reduce training costs;
Do much more (results) with much less (means).
Use Case
"In 2012, UnikSystem, in just 30 days, helped Portuguese financial entities to deliver PARI/PERSI compliance requirements in consumer credit. This platform processes more than 90,000 cases of non-compliance annually, representing more than 35 million euros of credit."
Low code gives stability and integrates security
When a company is dependent on a vendor and its updates to be able to customize the software, either because the business processes have changed or because it has changed legislation, it can have serious problems in terms of cost and response time.
After all, when using traditional development approaches, there is a great dependence on the manufacturer and consultants (undocumented knowledge) to continue support and maintenance, which lasts while the software is at the service of the company. Adapting the software to new business requirements (faster and faster changes) is just the beginning of this path.
By using low-code tools, you can recover support and maintenance costs very quickly. For example, when a new version of an operating system or some legal or regulatory change appears, low-code manufacturers are prepared to quickly develop and deploy the changes to all their customers.
After all, the interests of suppliers and customers are aligned, contributing to greater software stability from the ground. Once again, the customer saves time and money.  Ensure, however, that your low-code service provider is a market-recognized organization with a relevant track record of customers and systems in operation, secure and resilient.
The same applies to security. Low-code platforms ensure security requirements from the start, integrated into the development process. The same can happen in data privacy issues. These valences allow the user to be rested in this dimension because it has, from the beginning, the security and compliance with the regulation of personal data.
But there are some risks, if the development is done at home, pay attention. The low code is not synonymous with low risk. By allowing more people – non-technical users – in enterprises to develop applications, serious vulnerabilities and security flaws can be created. This risk can be mitigated by using specialized companies that, in partnership with your organization, can find the right solution to the challenge at hand.
What is no-code development?
You can also choose a no-code platform. In practice, it is a low-code platform, without using any programming language. Sometimes manufacturers build graphical interfaces to replace the ability to write small pieces of code.
No-code platforms are easy to use at the beginning of the development cycle, but tend to be limited at later stages or require additional integration of modules.
The UnikSystem low-code BPM platform v6.1 "Trinity"
UnikSystem's low-code business process management platform responds to all business needs. With the v6.1 platform it is possible to:
Create visually appealing and ultra-fast business solutions (React.js);

eKYC (Banca, Seguros, Telcos, HRM)
HRM Portal and Payroll (Talent Management)
Data Capture for Accounts Payable (AP)
PARI/PERSI (banking, consumer credit)
External portal for Property Valuation (Banking, housing credit)
Urban Planning Orders (CM)

Reduce software development time by 70% (vs . traditional);
Reduce costs by 60% (vs . traditional);
Move from paper and Excel to a 100% digital and collaborative platform;
Integrate DevOps cycles into the Cloud (Google, AWS, Azure);
Capture data or extract data from documents with 100% accuracy;
Pay per use/volume of documents/processes;
Take advantage of the BPM (Business Process Management) engine "iFlowBPM";
Integrate external systems such as: BizAPI, DocDigitizer, M-Files, CMD/CC, GMail, SSO/LDAP;
Enjoy a secure low-code platform that can be audited and grows with your business;
Have compatibility with leading technology vendors (Microsoft, Oracle, IBM);
Take advantage of a Service Level Agreement (SLA) tailored to your business needs.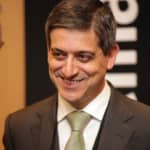 Jorge Pereira @ Joyn Group