"A new digital bank can deliver a fully digital onboarding in less than 20 minutes, including ID verification, anti-impersonation performed with live video chat, and contracts signed with an electronic signature."
The Banking industry is changing and the challenging FinTech's deliver innovative business services to speed up the migration from live personal interactions in a branch, to a fully digital experience, at home or traveling.
Customers can be guided through an online/mobile app with a simple and clear interface, searching for the best products and the options with the best fit to solve their needs:
– Define the amount and period for the product (loan, card, amounts, duration, etc) using a simulator with a simple graphical interface;
– When needed, provide additional personal information related to income and responsibilities (photo or pdf);
– Verification for internal customer history and context (API with core systems);
– Fill in the online application form with basic information and personal details (the simplest possible);
– Provide personal legal information (tax, country, id) and documents (photo or pdf);
– Automatic documentation Chekist verification;
– Certify document authenticity (OCR plus AI/ML to automate information structuring and auto-filling) and third-party providers for financial information (government; others);
– Verify ID (voice/video chat) and proof of life;
– Use a secure two-factor authentication provided (SMS) to establish a secure session with;
– Risk Scoring and commercial potential (to maximize margin and sale probability);
– Inform decision immediately (online), or to be verified later (conditioned) by back-office due-diligence;
– Request electronic signature for the contract (multi signatures, in real time, where customer are at that moment);
– Financial product delivery immediately after the signatures is completed.
From the customer perspective, what was best about this experience?
No requirement for me to figure out which form I need to download as a PDF
It worked on mobile and laptop
I could save an application during the process, come back later, and complete it
It was easy to get support in real-time if any questions arised
There were relevant status updates during the process
Provision of a handy welcome pack to get me started
"The complete customer experience was seamless and very positive. The overall process took less than twenty minutes, including account opening and loan contracting, with the electronic signature of two co-contractors, one being in London and the other one in Lisbon. The seventy thousand euros were available to the car seller and the customer left the stand with a new Tesla Model 3." (financial provider)
Some of the key benefits for the financial provider
By significantly reducing the onboarding time, the financial provider can now onboard clients up to 80% faster than with a manual process and improve time to revenue by up to 45%. It also reduced the cost of onboarding by 90% and increases the onboarding capacity to four times (clients) with the same back office team. It also reduced the TCO for compliance and KYC reviews by up to 50%.
With an improved engine for scoring and risk analysis, the loan acceptance increased up to 20%, the origination workload decreased by 30%, it brought a verified 45% improvement in profitability, and a 15% reduction in bad debt.
Customers are ready to change the financial provider, looking for simpler and online (mobile) solutions that may be used at any time, everywhere, providing an improved customer experience with financial products "on-demand." The fast success that Revolut or N26 are facing (1,500 new clients /day) shows that customers are ready and willing to change digital providers and embrace FinTech's innovative approach for financial services, loans, or insurance without fear.
The redesign of existing onboarding processes is a complex task that involves many different skills, processes, providers, and systems. Customer expectations are higher than ever and demand innovative approaches to reflect an amazing Customer Experience (UX/UI) and a huge simplification of the bureaucratic business processes. Simplicity by design makes everything much easier and reduces unneeded complexity to the overall solution. Adopting innovative technology is the right option and, for sure, more fun!
Please check the video and the web page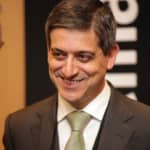 Jorge Pereira @ Joyn Group